FRESH FOOD FRIDAY!!!
HOORAY!!
I LOOOOOVE good quality fresh produce of pretty much any kind (meat, seafood, fruit and veg), but the BEST thing is when you get to cook something special with stuff you have grown yourself in your own garden.
Troy was away last week at a conference and after he got home Friday night, we decided we needed some good quality family time and on Sunday we had a gardening day.  There was a lot of tidying up to do, the garden has been really neglected of late and always looks a bit scraggly over winter anyway.  The kids go crazy in the garden, blowing bubbles, feeding the fish in the pond, playing in their cubby house as well as terrorising each other of course and Georgie (our 17 year old Golden Retriever – the most patient dog on earth and allows the kids to style her hair in any which way, and climb all over her as well).
So I had TOTALLY thought my ginger and lemongrass had died due to gross neglect.  The ginger fronds had gone brown and fallen off, the lemongrass was up on a ledge where I couldn't reach it and gone all wild (dry and brown looking with only a few green bits in a teensy, tiny little pot).  So off I went and dug it all up and…  SURPRISE – still good!!  Replanted a couple of little bulbs for coming spring (and some sunflowers for Gwennie) and sat back to contemplate my harvest.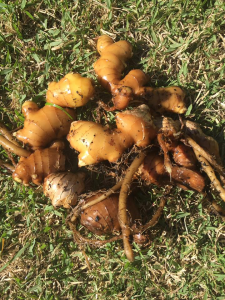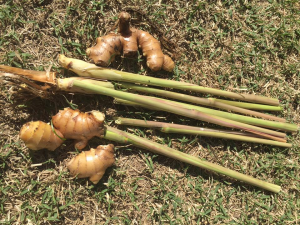 So dinner therefore HAD to be something based around these amazing fresh ingredients from the garden.  My aim was to really showcase the ginger and lemongrass (and chillies that are also homegrown) – and this recipe really did that, the flavours were so fresh and bright (and spicy!!).  I made this last Sunday night, and heaps of people have since asked me how to make it – so here goes…
This is a totally made up recipe – I must admit the quantities I have specified (as always) are just an estimate as I always do "a little bit of this, and a little bit of that."  In Chinese, my mum used to call this "agak agak."  This does not quite translate to "just making it up" as you kind of know what your ingredients are, but more "cooking by feel and taste as you go" with no formalised recipe.
INGREDIENTS
4 decent sized skinless chicken thigh fillets, cut into strips
2 fairly large pieces of ginger (I was VERY heavy handed with the ginger in this dish – and it was awesome.  Prolly used 2 pieces ~6-7 cm)
One piece chopped finely into matchsticks (for garnish)
One piece microplaned
3 red chillies – sliced (if you want mild – just go two chillies, the big, not-hot variety from the supermarket, I used 3 largish hot chillies from the garden)
1 lemongrass stem – inner white bit only, chopped finely (if you don't have this, I often use the fresh lemongrass paste you can buy from the fruit and veg section of the supermarket – a good squeeze of this would do)
4-5 cloves of garlic – finely chopped or crushed
2 French shallots (or you could use about 4 spring onions if you want)
1 bunch of chopped fresh coriander (ended up being about a cup – leaves and stems separated)
200g of broccoli (cut into florets) and sugar snap peas – de-stringed (but you could use whatever you have in the fridge – like green beans, zucchini, snow peas, asparagus etc)
A good splash of fish sauce (? about 3 tsp)
A good splash of Chinese Shao Xing cooking wine (?about 3 tsp)
About 3 tab of oil (whatever type – peanut, canola, vegetable, sunflower)
3 tab of honey
2 tab of soy sauce
Steamed rice to serve
METHOD
 Heat oil in a wok until HOT; fry matchstick ginger until golden and crispy.  Remove to paper towel on a plate
 Keep the oil on the heat and fry off your aromatics for 2-3 minutes until softened and fragrant (coriander stems and about half the leaves, French shallots/spring onions, garlic, microplaned ginger and 2 of the sliced chillies
Brown the chicken in the wok, mixing well and coating with the aromatics
Add the honey, Shao Xing wine and fish sauce and mix well
When the chook is almost cooked, add the broccoli florets/sugar snap peas, toss well and place the lid on the wok for a further ~3 min
Plate up in a serving dish and top with fresh coriander leaves, crispy ginger and fresh chilli
Serve with steamed rice
This really was a delicious dish.  Pretty easy to make too.
Hope you enjoy it!
As always – post me some pics and a comment if you try it, and SHARE, SHARE, SHARE the joy on Facebook etc if you like it
Happy cooking and eating!
xx Dr Megs