Ahh… the smell of this dish almost makes my eyes roll back in my head.  Soooo goooood…
I honestly expected this dish to be good, but not this good!!
It is definitely worth a go – my dad (and my harshest food critic) gave it a 10/10, after he told me that he "…couldn't give me a 10."  Then he took home some leftovers!!  Now THAT is a compliment!!  Ha ha!  No serious though – this dish rocks.
I actually made it last Friday, but have been so flat-strap busy this week I haven't had a chance to transcribe my well-thought-out but messily scrawled recipe from the scrappy piece of paper I wrote it on, into my heirloom recipe book OR type up a blog post until now.  Sorry about that!  I did post a couple of pics on Instagram and FB, and SO many people (including my butcher) kept asking me for the recipe!  So here t'is guys!
This very traditional-style recipe I adapted from a pork dish that my mum used to make that we call "Lor Bak."  My mum didn't really make this beef brisket dish… she occasionally cooked beef for us (because she knew we liked it) but she didn't eat beef herself.  So it would be true to say that this is not a recipe that mum taught me, but one I made up that was inspired by her.   We have eaten this dish before in restaurants and I've always loved it.
I was spurred on to make this dish because I'm part of a cool cooking group on FB, where one of the other members messaged me and asked if I had a recipe for this dish.  I didn't and so took it on as a CHALLENGE!! Woot woot!  So glad I did, and will totes be making this again.
INGREDIENTS
1.5kg of beef brisket cut into 3cm chunks (my lovely butcher does this for me); I have used up to 2kg of beef with this recipe – but it is a bit of a push to get it all in the wok
4 golden (French) shallots (OR 2 brown onions OR 1 bunch of spring onions) finely chopped
The stems of 1 small bunch of coriander, finely chopped (reserve leaves for garnishing and serving fresh on the side at the end)
6-8 garlic cloves, thinly sliced
A good chunk of ginger (about the size of a ping pong ball), peeled and microplaned; and another good sized chunk, shredded into matchsticks for garnish
3-4 tab of oil (eg vegetable, canola, peanut)
1-2 red chillies finely sliced (if you want it hotter, leave the seeds in)
2 tab of plain flour seasoned well with salt and pepper
2 tsp of Chinese 5 spice powder
4 star anise
1 tsp of freshly ground black pepper
2 tsp of dark brown sugar
3 tab of Chinese cooking wine
3 tab of dark soy sauce
3 tab of light soy sauce
500 mL of Chinese Master Stock (or if you can't find this, you can use chicken or beef stock)
Steamed jasmine rice and steamed/stir fried vegies to serve
METHOD
 Heat 2 tab of oil in a large wok and fry off your aromatics (garlic, ginger, onions, chilli, star anise, 5 spice powder, coriander stalks) for about 3 min until softened and fragrant. Remove from the wok and set aside
 Add a bit more oil to the wok.  Toss the beef chunks in the flour and brown in batches (usually takes at least 5 or so minutes to adequately brown) 
 Add in the aromatic mix to the beef, add the sugar and stir/toss until well combined
 Transfer the contents of the wok to the pressure cooker.  Splash the wine into the wok to deglaze, and add to the pressure cooker
Pour in the soy and stock (it won't cover the meat completely), seal the lid and cook under pressure for 60-90 min (you can do this step in a oven safe pan with a tight lid – you will need to cook it in a pre-heated moderate oven (about 150 deg fan forced) for about 2 hours)
 Fry the matchstick ginger in oil until crispy – sprinkle this on top of your dish at the end
Serve with steamed jasmine rice and green vegetables (I used Oyster and sesame florets and fresh seafood as sides for this dish – and it made for an awesome meal)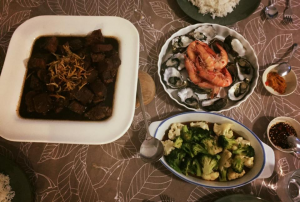 I hope you enjoy this dish as much as me and my dad (and my husband and rest of the family) did!
Until next time – happy cooking (and happy eating) !!
xx Dr Megs