Hello there Paeds & Feed-ers!!
So, I promised to walk you through a case study to demonstrate how to draw up a study plan for your high-schooler (and teach them how to do it independently)– so here it is!
Let's make up a kid to talk about… Let's call her… M.. Mm…  Maree.  She is in Grade 11.
"Maree is totally wigging-out because she is struggling to get her homework and assignment work done with all of her extracurricular activities.
She plays the clarinet in school concert band (with her music lesson during school hours in the week), and has band practice on a Wednesday afternoon straight after school.  She also dances ballet twice a week, with jazz and hip-hop dancing also on the weekends.  She is also on the school cross country and debating teams.
With a heavy subject load, her parents (who follow the Dr Megs – Paeds & Feeds blog online) notice her distress and realise they can help her with a study plan (as well as buy her some cool stationery to make her feel better)!"
Her subjects are:
Physics
Chemistry
Biology
English
Maths B
Art
Drawing up a study plan for Maree:
Draw up a study planner (or use the template I have here – the images are also in the gallery above)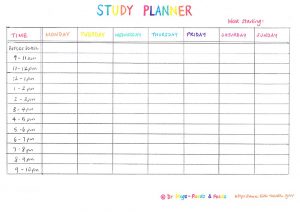 Block out SCHOOL HOURS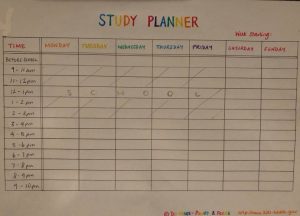 Block out all EXTRACURRICULAR activities for the week and breaks for dinner and lunch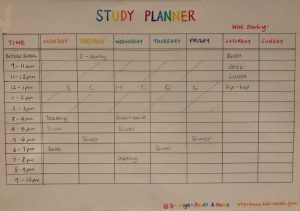 For a normal school week (not requiring extra study close to exams), decide on how many hours of study/work are needed for each subject and insert these into the remaining blank spots. Maree decides she needs to devote 1 hour each week to each of her subjects, with spare time on the weekend to either rest, do assignments or use for her harder subjects when needed. If one week you find you don't need all the time allocated to a subject, then decrease it in the following week (eg art), and conversely increase time for those subjects you find need more (eg physics).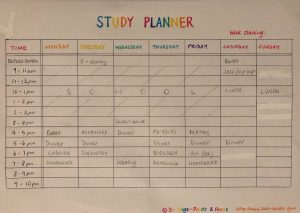 For weeks leading up to exams or assignments consider how much extra study/work is needed for each subject and account for this.  You can always adjust these allocations as you go, remembering to factor in rest breaks.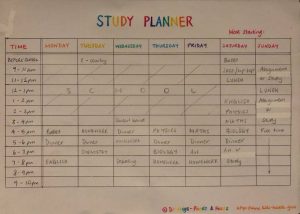 Now parents – this is JUST AN EXAMPLE.  Maree is obviously a chronic overcommitter, and is probably hypomanic…
You can adapt this example to account for your child's extracurricular commitments and school subject load.  Not all kids will need or want to study this much – I have just done it this way to demonstrate to you HOW MUCH you are able to fit into a week if you want or need to.
I really hope that this helps some of you out there – both parents AND students.
Have a go at it with your teen – and let me know how you go!
Happy studying!!
xxDr Megs